Jak ślub Irlandczyków to irlandzka pogoda, nie może być inaczej!:) Do tego cudowna para, świetna organizacja i czas na wszystko, z sesją w dniu ślubu na czele:) Dziękujemy za przemiłą współpracę i gratulujemy raz jeszcze!
Ewelina and Noel – many congratulations once again! We wish you all the best and thank you for the fantastic atmosphere! Enjoy the photos!:)
Here are a few words from our Bride to inspire all the brides-to-be!:) Ewelina, thank you for sharing this story with us!
It all began with us planning our wedding in Wielkopolska, a small place near a lake surrounded by forests where I was brought up. We had nearly everything organised but due to renovation plans for our venue we had to start again. October 2012, not much time left – what could we do? With no viable options available locally, we knew by just looking at each other that the destination would be our favourite place in Poland – Krakow! We still both remembered a few years back when we flew to Krakow for a weekend break and while we were staying in The Sheraton we said " we will get married here". However it was never an option at that time as we knew that it would be where is my family home. But as we know – "what's meant to be is meant to be" – and so we were getting married in Krakow!
Living and working in Dublin we had no chance to organise our wedding. Therefore we found our wonderful wedding planner Anna Grzegorska from Beautifulday to help us. While Anna sent us options for churches, bands, videographers etc., we both concentrated on what we could do ourselves, looking for my dress, Noel's suit, wedding rings and invitations.
We both wanted our wedding day to be relaxing, full of fun, joy for both our families and very close friends who were coming from different parts of Poland, Ireland, England, Germany, Spain & of course New Zealand! The important thing for us was for all our guests to remember this day for a long time. Well, looking at the photographs below we know we achieved this. Dorota & Michal, you are both wonderful and very professional. We still remember the day we were choosing our photographers but we just knew instinctively that Whitesmoke Studio was the one and would reflect our day the best way. Your photographs tell the story of our whole wedding day. Watching our gallery we still have a feeling like this day has never ended, like we are still in Krakow, in the same time in the same place feeling all the emotions all over again. That's exactly what we were looking for. We could not imagine a better team, we could not imagine better memories. We made the right decision by choosing you and we believe that this is not the first and last time we will be working together. You are incredible and thank you from the bottom of our hearts for capturing all those wonderful and unforgettable memories for us forever.
Ewelina & Noel
Wszystko zaczęło się od planowania naszego ślubu w Wielkopolsce, w pięknej malutkiej miejscowości położonej nad jeziorem, otoczonej lasami, gdzie się wychowywałam. Wszystko już prawie zaplanowaliśmy gdy dowiedzieliśmy się, że z powodu renowacji wybranego miejsca musimy zacząć wszystko od początku. Październik 2012, dużo czasu nie zostało, co robimy? Od razu znaliśmy odpowiedź – oczywiście nasze ulubione miejsce w Polsce – Kraków! Do dziś pamiętamy, kilka lat wstecz kiedy polecieliśmy na weekend do Krakowa i zatrzymaliśmy się w Sheratonie i żartowaliśmy że to właśnie tu się pobierzemy. To były jednak tylko żarty ponieważ wiedzieliśmy, że wesele odbędzie się w moich rodzinnych stronach. Jak to się mówi "co ma być to będzie" – i tak też się stało, tak miało być – pobraliśmy się w Krakowie.
Nie byliśmy w stanie zrobić za wiele mieszkając i pracując w Dublinie. Zabraliśmy się więc za poszukiwanie osoby, której możemy zaufać, i która pomoże nam zorganizować nasze wesele. Bardzo szybko znaleźliśmy wspaniałą Annę Grzegórską z Beautifulday, która absolutnie zasługuje na medal. W czasie kiedy Anna wysyłała nam opcje związane z zespołem muzycznym, kościołem, kamerzystami itd., my skoncentrowaliśmy się na rzeczach, które mogliśmy sami zrobić; poszukiwanie ubrania dla Noela, mojej sukni, obrączek ślubnych i wysyłaniu zaproszeń dla naszych drogich gości.
Planowaliśmy, aby nasze wesele było jedną wielką zabawą. W pierwszej kolejności chcieliśmy aby nasze rodziny, bliscy, znajomi którzy przybyli z Polski, Irlandii, Niemiec, Anglii, Hiszpanii i Nowej Zelandii bawili się świetnie, czuli się swobodnie i wspominali nasze wesele przez długi czas. Myślę, ze patrząc na poniżej załączone fotografie możemy powiedzieć, że nam się to udało. Dorota i Michał jesteście wspaniali! Pamiętamy dzień, w którym przeglądaliśmy listę z fotografami i od razu wiedzieliśmy że to WhiteSmoke Studio będzie zespołem fotografów, który najlepiej odzwierciedli nasz cudowny dzień. Jesteście wspaniali w tym co robicie a wasze zdjęcia są magiczne i pokazują historię całego dnia. Oglądając wasza galerię czujemy się jakbyśmy jeszcze raz byli w Krakowie, w tym samym czasie, w tej samej chwili czując dalej te same emocje. To było to, czego dokładnie szukaliśmy. Nie mogliśmy sobie wyobrazić lepszych zdjęć i lepszych wspomnień. Wiemy, że dokonaliśmy świetnego wyboru i wiem że jeszcze będziemy współpracować w przyszłości. Jesteście niesamowici i dziękujemy wam z całego serca za utrwalenie tych wspaniałych i niezapomnianych dla nas chwil.
Ewelina & Noel
Location: Cracow, Poland
Getting ready / Przygotowania: Sheraton Hotel, Krakow
Ceremony / Ceremonia: st. Anna Church, Krakow
Reception / Przyjęcie weselne: Sheraton Hotel, Krakow
Wedding Planner: Anna Grzegórska/www.beautifulday.pl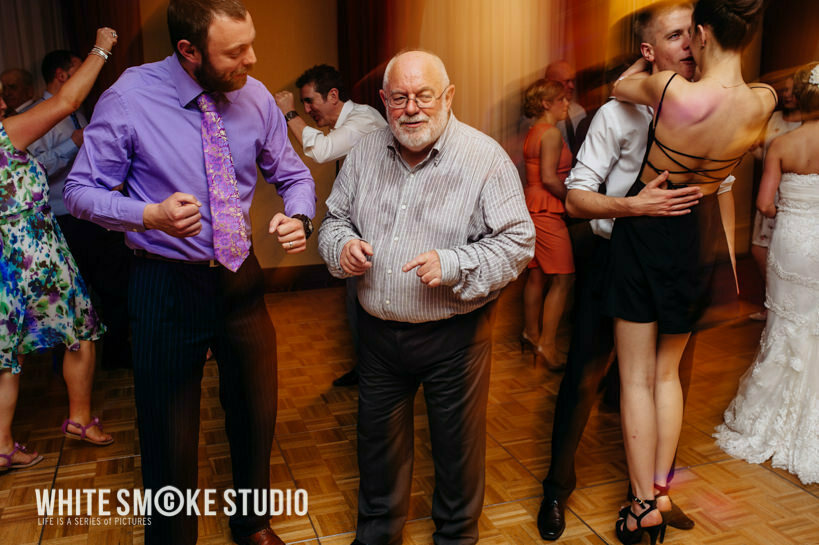 JOIN US ON FACEBOOK !!!