Cudowna para, angielska pogoda i goście z różnych zakątków świata, Czego chcieć więcej? Najzabawniejsze jest to, że o mały włos zdjęcia robiłby Emin Kuliyev. Na szczęście dla nas stało się inaczej :-) Powiemy tylko – działo się! Wszystko zagrało jak trzeba choć z wielu powodów to był bardzo trudny ślub do fotografowania. Obostrzenia w kościele i miejsce gdzie odbyło się przyjęcie – Reduta Banku Polskiego. Uwielbiamy robić tam zdjęcia pomimo braku światła i przestrzeni dość kłopotliwej do "ułożenia". Nie zmienia to faktu że bardzo jesteśmy dumni z tego materiału, reportaż ślubny sam się robił. No i przygotowania Dominiki fotografował Michał – miła odmiana :-)
Lovely couple, English weather and a cosmopolitan party, what more could we wish for? The funniest thing is that the man who was supposed to take pics at this wedding was Emin Kuliyev. But fortunately for us it didn't happen :-) It is said, that if it rains on the day of your wedding you will have lots of luck and happiness. So Dominika and Allen will be very happy :-) It was day full of surprises and laughter. There were even flying hearts, a group of folk dancers and a photo-booth. It was a great but very difficult wedding. We loved the place where the reception took place, Reduta Banku Polskiego, but it is a very hard place to take pictures, huge, quite dark and required lots of attention. We are happy that we took lots of pictures that we are proud of!
Look at Dominika! She's so gorgeous, the dress beautifully emphasised her pregnant belly. Guys – thank you for your trust! We wish you all the best. Enjoy!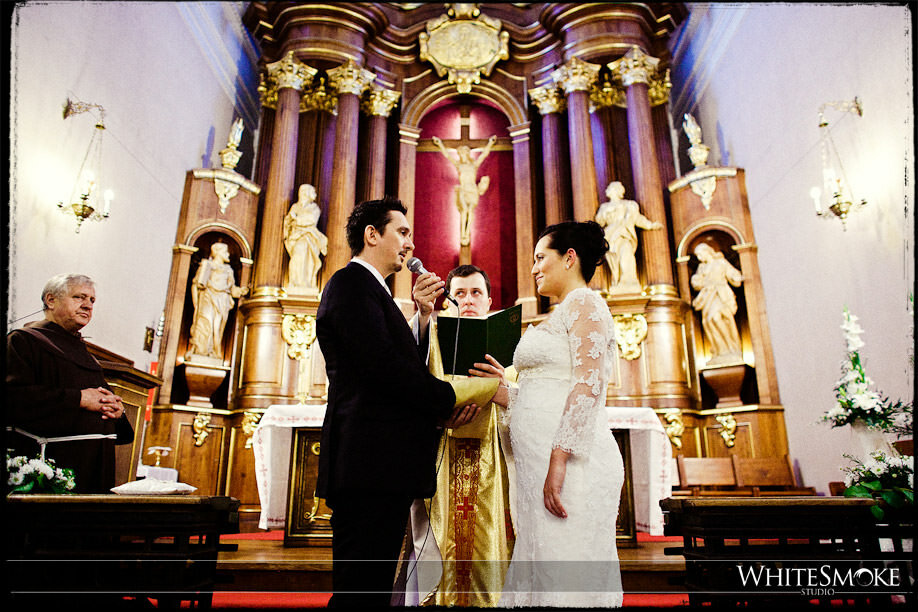 Na koniec kilka zdjęć z photobooth – tu wersja gdzie goście sami robili sobie zdjęcia :-) Mnóstwo frajdy!

Below slideshows for b&w lovers – we couldn't resist ;-P Look like classic vintage underexposure b&w film! what do you think is better? check and tell us :-) cheers!
Poniżej, dla zaskoczonych kompletnym brakiem zdjęć B&W w materiale slideshow. Całość B&W. Kliknijcie play i miłego oglądania.
[iframe https://whitesmokestudio.pl/wp-content/uploads/2009/10/index.html 918 700]